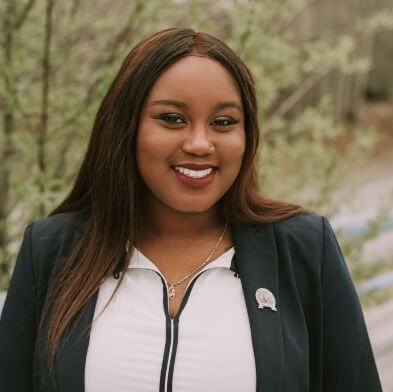 Kiana F. Rivers
About Kiana
I am Kiana Faye Rivers, I blueprint my life by the quote: "Service is the rent that you pay for room on this earth" -Shirley Chisholm. I am native of Eastern, North Carolina and a 2017 graduate of Elizabeth City State University (B.S. Criminal Justice). I am also a 2020 graduate of North Carolina Central University School of Law. Everyone deserves adequate legal representation, and should understand everything happening at every stage of their case, it is my mission to ensure that my clients are always informed. My area of practice is primarily criminal defense. I have a recent track record of handling a plethora of misdemeanors including OUI's, DV Assaults, Theft, and Criminal Mischief cases.
Through several life experiences, I have learned the importance of always standing for something, and walking fully within your purpose. I have an extensive history in public speaking and advocacy dating back to 2005. It is my mission to use my voice to advocate for others within the legal system. I am not afraid of "doing the work", and speaking up regarding my clients interest. I pride myself in taking time and advocating for every single one of my clients.
While in Law School, I was heavily involved with the Pro Bono Council, and The Civil Rights Society. I was a 2020 Recipient of the NCCU School of Law Deans' Leadership Award, and was recognized through the Pro Bono Service award for completing over 75 service hours. In 2018, I was appointed by the N.C. Governor as a commissioner for the N.C. Rev. Dr. Martin Luther King Jr. Commission. I was reappointed for her second term on this Commission in January 2020.
My passion for service, sense of community, expertise in public speaking, and understanding of the law are all criteria that will be helpful to all I serve. I look forward to assisting you in the future.